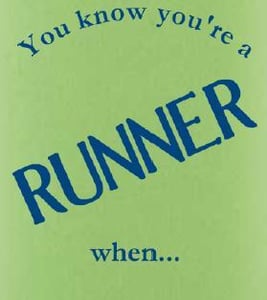 $

7.50
We all know running on the treadmill is a great form of exercise. Have you ever felt like you run on the treadmill so much that those miles are higher than the miles put on your vehicle? This humorous koozie is sure to get a laugh out of others at the gym or at any social event.
FRONT: You know you're a RUNNER when...
BACK:you have put more miles on the TREADMILL than on your car.
These koozies are collapsible and perfect for carrying in your back pocket. Perfect for water bottles, glass bottles, and any canned drink.
This design comes on a green koozie with blue writing.